Room 21 - Echoes of the Miraculous
Work in Progress
Es begann mit dem Auftragswerk für die diesjährige (2011) Brucknerfesteröffnung, komponiert von Johannes Berauer, das im September unter Dennis Russell Davis zur Uraufführung gelangte. Das Stück trägt den Titel "Echoes of the Miraculous".
Johannes hatte die Idee, mir die originalen Skizzenblätter für die Komposition als grafisches Ausgangsmaterial für eine Serie von Zeichnungen zu überlassen.
Das Ganze ist momentan noch "Work in Progress"… Es entwickelt sich gerade weiter und weiter. Von der anfänglichen Illustrationsserie, die die Musik als Ausgangspunkt hatte, entsteht nun ein neues Projekt, das unsere gemeinsame und unterschiedliche Sicht des Wunderbaren variiert.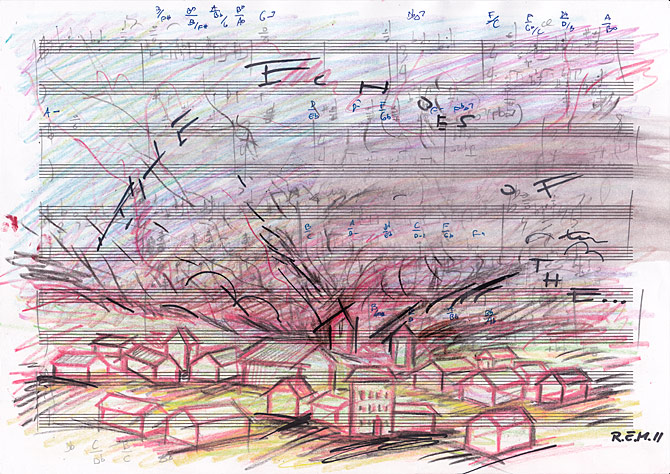 Die erste Zeichnung mit Farbstiften und anderen Materialien auf einem von Johannes' Skizzenblättern.
Format: 29,7 x 21 cm